Washington, D.C., 22 May 2012: Siraj Fund Management Company (Siraj) and the Overseas Private Investment Corporation (OPIC), the U.S. Government's development finance institution, concluded an agreement providing $30 million in financing to the first private equity fund designed to invest in companies operating in the Palestinian Territories. The fund will inject much-needed capital into small business enterprises across a variety of sectors of the Palestinian economy.
The Siraj Palestine Fund 1 is designed to invest in start-ups and small and medium-sized enterprises, with a focus on companies with the potential to become market leaders or expand their operations internationally. The new Siraj fund was one of five funds approved by OPIC's Board of Directors in June 2010 as part of President Barack Obama's initiative to provide U.S. support for technological development in Muslim countries. OPIC selected as fund manager Siraj Fund Management Company, a Ramallah-based company owned by Massar International. The fund had an initial target capitalization of $80 million, but ultimately raised $90 million, including the OPIC financing.
Siraj Palestine Fund I has already invested in four companies – PalGaz, a gas distribution company endeavoring to become a market leader in liquefied petroleum gas distribution; Wassel, a logistics and distribution services company; Nakheel, an agricultural products company specialized in the production and sale of Medjool dates; and Ziadeh Consulting and Engineering, an engineering firm that provides architectural design, supervision and project management services. In addition to these four initial investments, five more were approved in April 2012 and many more promising deals are in the pipeline.
Massar International Chairman and fund General Partner Bashar Masri stated, "OPIC's much needed support of the Siraj Palestine Fund I comes at a crucial juncture for the Palestinian economy. Access to capital for infrastructure expansion and operational upgrades is the missing link for dozens of viable Palestinian companies. Without it, they cannot meet domestic demand, innovate or compete successfully in the international marketplace. Strengthening key industry players across multiple sectors will ultimately make the entire Palestinian economy more robust."
OPIC President and CEO Elizabeth Littlefield added, "A viable private equity sector and small business financing infrastructure are two telltale developments in the growth of any emerging market. The fact that Siraj Palestine Fund I contributes to both is an outstanding feature of this investment fund. It will help to unleash the potential of Palestinian businesses, while promoting technological advancements and sustainable development."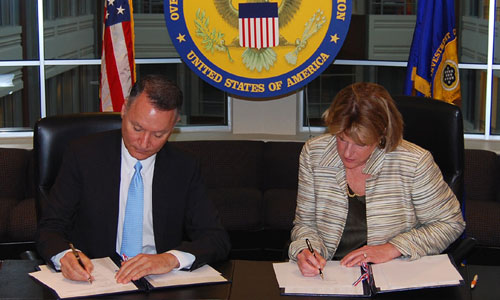 The signing of the financing agreement in Washington, D.C. took place at the opening of the OPIC meeting of general partners managing OPIC-supported private equity investment funds, hosted by the agency's Investment Funds Department.
About Siraj Fund Management Company
The Siraj Fund Management Company was founded by Massar International for the sole purpose of managing investment funds in the Palestinian Territories. Its first fund, the Siraj Palestine Fund I, was launched on February 3, 2011, to provide direct equity investments to viable start-ups and SMEs across various economic sectors. Siraj's investments are intended to promote technological advancement and spur economic growth, job creation and innovation. Siraj will launch more funds focused on the Palestinian market in the future with the intent of significantly contributing to the sustainable development of the country.
About the Overseas Private Investment Corporation
OPIC is the U.S. Government's development finance institution. It mobilizes private capital to help solve critical development challenges and in doing so, advances U.S. foreign policy. Because OPIC works with the U.S. private sector, it helps U.S. businesses gain footholds in emerging markets catalyzing revenues, jobs and growth opportunities both at home and abroad. OPIC achieves its mission by providing investors with financing, guarantees, political risk insurance, and support for private equity investment funds.
Established as an agency of the U.S. Government in 1971, OPIC operates on a self-sustaining basis at no net cost to American taxpayers. OPIC services are available for new and expanding business enterprises in more than 150 countries worldwide. To date, OPIC has supported nearly $200 billion of investment in over 4,000 projects, generated $74 billion in U.S. exports and supported more than 275,000 American jobs.